The club is nothing without the amazing work of our coaches, both paid and voluntary. They are the guiding force of the club and without them we simply wouldn't be here.
We are exceptionally fortunate to have a wide and varied group of coaches all of whom add a huge amount of experience and enthusiasm.  All our coaches are PVG checked, have first aid and child protection training and are all listed on the British Fencing Coaches Register.
Club lessons are available as part of your membership from any of our coaches every weekday training night.  They are generally 15 minutes in length and may be with any club coach.
The club operates a first-come basis for club lessons.   Simply add your name to the list at the start of each night and the coaches will work their way through it.  Any lessons not completed on a given night will roll over to the next.
Individual Lessons must be arranged with your chosen coach and is a private agreement with them. Please email or call them to discuss your requirements.
---
KEITH COOK
Keith is co-founder of Salle Holyrood and has been coaching for 11 years.  He has a British Fencing Level 3 Coaching Qualification and Level 3 Certificate in Mentoring.  Keith is owner of plastic fencing coaching organisation, Fencing Fun. Read Keith's full profile here. 
email: keith.salleholyrood@gmail.com  mobile: 07921 853728
---
SEAN WALTON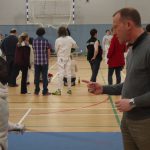 Sean is co-founder of Salle Holyrood and has been coaching for 19 years.  Sean has a Level 5 International Fencing Master's Diploma.  Sean is also one of the voices of The Fencing Podcast.  Read Sean's full profile here.
email: sean.salleholyrood@gmail.com    mobile: 07764 685520
---
PAUL STANBRIDGE
Paul Stanbridge is a Level 2 Coach. Paul is now an active participant of the senior and veterans fencing scene. Read Paul's full profile here.
email: paulstanbridge@yahoo.com
---
MHAIRI MCLAUGHLIN & JAN SAMULSKI
As successful active fencers themselves, Mhairi and Jan are currently assistant coaches at the club, both holding a level 1 coaching qualification.  They are currently working towards their Level 2 Award and once qualified will be supporting our youngest fencers to develop their fencing skills.