At Salle Holyrood we believe that intensive training camps are the perfect setting for developing the "whole" fencer. Our camps encourage fencers to explore and develop the skills and attributes  which are the building blocks to reaching your potential.  All in a fun, but focused, environment.
EASTER 2019: 10-12th April 2019
Cargilfield Prep School, Edinburgh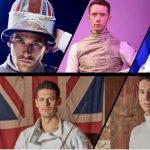 SUMMER 2019: 5-9th August
St George's School for Girls, Edinburgh
An amazing opportunity this summer to spend the week sparring with the GB Men's Foil Team!  RICHARD KRUSE – JAMES DAVIS – MARCUS MEMPSTED – BEN PEGGS – KEITH COOK with the option to also receive individual lessons from the team too.
Places are limited so early booking is advised. For more information or to book, click here to be directed to our eventbrite page (opens in a new window).