Listed below are
competitions run by Salle Holyrood

.

These are fun, well-run events that we hope all our members will support. They also raise funds for the club which allows us to ensure we can continue our repair and replacement programme of equipment and scoring apparatus.

1st December 2018: Salle Holyrood Club Championships.
St Thomas of Aquins High School. 

Entries open 1st September for the 2nd Salle Holyrood Championships.  Evening festivities will again be held at Canon's Gate on the High Street.

2nd December 2017: Salle Holyrood Club Championships

Thank you to everyone who attended the inaugural Salle Holyrood Club Championships.  We had a great time with christmas tunes helping us through a fun but gruelling day of fencing with a giant poule unique followed by Direct Eliminations in each age group.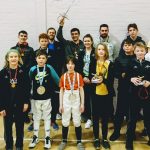 OVERALL CLUB CHAMPION 2017: Finlay McAndrew
runner up: Jack Douglas
Veterans Champion: Paul Stanbridge
Senior Champion: Jack Douglas
U/20 Champion: Finlay McAndrew
U/17 Champion: Angus Crawford
U/13 Champion: Jaimie Cook
U/11 Champion: Sam Barrass
PAST RESULTS:
3rd December 2016: One-Hit Epee, Broughton High School Final results here. 
8-9 October 2016: Holyrood Cup, Cargilfield School
Final results here.
For details of regional, national and international competitions for junior and senior fencers, please visit the members area